Hunter Restorations offers color case hardening, charcoal bluing, rust bluing, nitre bluing, fire bluing and hot caustic salt bluing.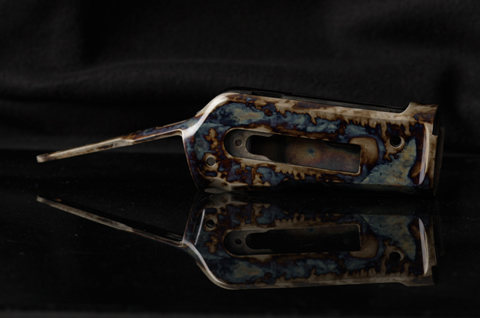 Color Case Hardening. Original Pack hardening method using Bone Char.

Charcoal Bluing. Original Bluing method of firearm finishing used by Colt, Winchester Marlin.

Rust Bluing. Traditional method for finishing of barrels and magazine tubes.

Nitre Bluing. Traditional finish for screws, pins and small parts.

Fire Bluing. Traditional finish for Colt triggers, screws, and Winchester loading gates.

Hot Caustic Salts Bluing. Modern salt bluing process.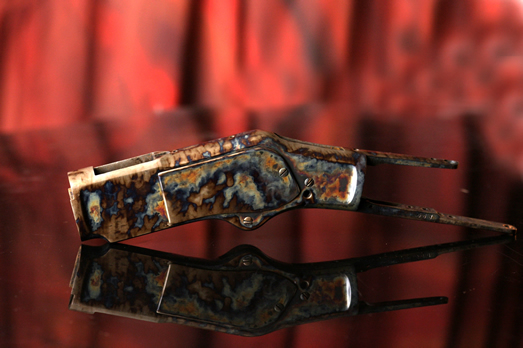 The prices listed below apply only to pre-polished and disassembled parts that are ready for firearm finishing.
| | |
| --- | --- |
| Color Case Hardening | |
| Minimum charge for color case hardening | $75 |
| Small Action Colt SAA | $145 |
| Medium Action Winchester Models 1890, 1892 | $245 |
| Large Frame Winchester Models 1873, 1876, 1886 | $285 |
| Rust Bluing | |
| Minimum charge for rust bluing | $75 |
| Single Barrel / Magazine Tube | $100 |
| Over / Under, Side by Side Shotgun Barrels | $225 |
| Rifle Barrel & Magazine Tube | $175 |
| Nitre Bluing | |
| Set of Pistol / Rifle Screws | $20 |
| Rifle Frame | $120 |
| Pistol Frame | $100 |
| Bluing | |
| Minimum charge for bluing | $50 |
| Single Action less Frame | $75 |
| Single Action with Frame | $100 |
| Double Action Revolver | $100 |
| Single Barrel or Magazine Tube | $50 |
| Lever Action (receiver only) | $150 |
| Large Auto (colt 1911) | $100 |
| Colt SAA all parts less frame | $100 |
| Barrel and Magazine Tube | $75 |